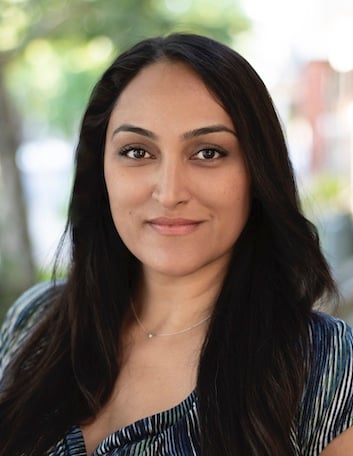 Sakina Rizvi, Ph.D, M.A.C.P., R.P.
Everyone has a unique journey in life. I believe it is important to honour this as well as the unique path individuals will take to healing. It is not easy to face the painful parts of our lives and selves, and support through that journey can help to bring insight and shed light on new ways of being. Finding a therapist that you connect with is an important piece to finding the right kind of support that is helpful for you, so here is an overview of what you can expect from working together
In therapy, I operate from the perspective that there are a multitude of factors that contribute to distress, mental illness and wellness. My approach to mental health integrates the biological, psychological and social facets of an individual. As a neuroscientist by training, my clinical research into how the brain can beneficially change among those with treatment resistant depression and suicide risk has strongly contributed to my understanding of the potential inner power that individuals are able to harness. So, we will work collaboratively with your strengths to find ways of relieving more immediate emotional symptoms while together exploring the deeper concerns that may underlie your distress.
I work with individuals who are experiencing depression, anxiety, bereavement or other loss, interpersonal difficulties and challenges with life transitions. I welcome the diversity of clients and appreciate how culture can have a powerful impact on shaping our personalities and behaviours. With respect to treatment modalities, I have a broad interest in approaches that are supported by evidence like psychodynamic and attachment therapy, existential therapy, cognitive behavioural therapy, and mindfulness-based therapies. I am also interested in experiential approaches that help clients to explore and manage their emotional distress.
I take a collaborative approach to therapy. That means that we work together to empower you in achieving your therapy goals. In our first session, I'll get to know your story, which includes the path that led you to therapy as well as your life background. We will talk about your therapeutic goals with a flexibility in understanding that those goals may change as we delve deeper into your challenges. I will sometimes use scientifically valid assessments to help us keep track of what you are feeling. This helps us to gain further insight into your difficulties. It also helps us to see how things are changing as we progress through therapy or also what is not changing and needs further support. Throughout our sessions I will meet you with empathy and genuine interest. I believe openness without judgment to all aspects of a person (even the hard to look at parts) is vital for a fruitful therapeutic relationship. So in our sessions you will find a safe space where you can share and explore your thoughts, feelings and behaviours. I take an integrative approach to psychotherapy and the approaches that I use are tailored to your needs.
I have many years of experience providing counselling to individuals and groups. For the last several years I continue to do grief counselling with individuals who have lost someone to suicide through the Suicide Survivor Support program with the Distress Centres of Toronto. For over ten years, I have conducted research on neurobiology and treatments for individuals experiencing depression, bipolar disorder, anxiety and suicide risk at the University Health Network, and the Centre for Addiction and Mental Health. Currently, I am a Scientist at St. Michael's Hospital and Assistant Professor of Psychiatry at the University of Toronto conducting clinical research in depression and suicide.
I have published numerous articles and presented at many scientific conferences in the areas of brain imaging, psychopharmacology, psychotherapy, and brain stimulation treatments, with an emphasis on depression. In my role as an Assistant Professor, I supervise undergraduate and graduate students and help them to conduct impactful and ethical research as well as to understand the nuances of mental illness beyond symptom presentation.
Selected publications:
Iskric A, Bergmans Y, McInerney S, Rizvi SJ. Alexithymia and self-harm: A review of nonsuicidal self-Injury, suicidal ideation, and suicide attempts. Psychiatry Research 2020 Mar 13;288:112920.
Rizvi SJ, Lambert C, Kennedy S. Presentation and Neurobiology of Anhedonia in Mood Disorders: Commonalities and Distinctions. Current Psychiatry Reports 2018; 20(2), 13.
Rizvi SJ, Zaretsky A, Schaffer A, Levitt A. Is immediate adjunctive CBT more beneficial than delayed CBT: a pilot study. Journal of Psychiatric Practice 2015;21(2):107-113.
Rizvi SJ, Solomon T, Konarski JZ, Downar J, McIntyre RS, Kennedy SH. Neural response to emotional stimuli associated with successful antidepressant treatment and behavioral activation. Journal of Affective Disorders 2013;151(2):573-81.
I am a Psychotherapist at CFIR, working on the supervision of Dr. Lila Hakim, C.Psych.
Treatments
Assessment
Therapies