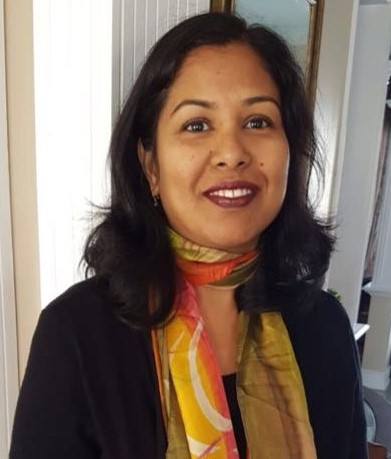 Roja Vivekanand, M.A., R.P.
We are all unique and creative human beings. Life events and experiences are ongoing, and sometimes we are in a position where things may not go as we planned. If you are looking for help in dealing with distressing, difficult or unavoidable frustrations, it is the best time for you to speak to someone to gain some insight into these challenges. I appreciate your courage and applaud you for taking this first step to reach out.
I support your readiness in taking this move by accepting that something needs to change when your regular coping strategies are no longer working. I commend your willingness and courage to explore possibilities to improve your mental wellness and personal growth.
As an integrative Registered Psychotherapist, I am trained in providing individual therapy for adults and couples from diverse backgrounds. I work with client issues like anxiety, depression, trauma, interpersonal difficulties, loss and grief, emotional dysregulation, workplace stress, and low self-esteem. I have an innate passion for assisting individuals that are experiencing difficulties with comprehending thoughts, drives, and emotions. I have valuable experience in enhancing your ability to acquire more positive and productive ways of dealing with life by cultivating new insights, skills, and behaviours.
I have a great interest in working collaboratively with positive regard. We will work together during our first session to develop a shared understanding of your struggles, concerns, and presenting issues. Your current challenges could be the result of past experiences. The main aim of the therapy is to uncover and establish a meaningful therapeutic relationship. Exploring this helps us to develop therapeutic goals and needs collaboratively. I provide continuous positive regard in a safe, empathetic, compassionate, and non-judgemental space.
I firmly believe that every client is unique and requires an individual approach in dealing with their problems and issues. Therefore, I practice from a biopsychosocial perspective and employ an integrative therapeutic approach using diverse modalities, including client-centred, attachment-based, and Adlerian therapy. In addition, I incorporate interventions that mainly include empirically validated cognitive-behavioural, dialectical behavioural, trauma-informed, and mindfulness-based therapies to build self-awareness and manage interpersonal problems.
In my nineteen years of experience, I wore many hats in psychology, both in organizational, education, community, and private practice settings. I completed a Masters program in Industrial and Organizational Psychology. With transforming times, as a lifelong learner, I am currently pursuing another Masters in Clinical Psychology at the ADLER Graduate Professional School in Toronto.
I am a practising Registered Psychotherapist and a member of the College of Registered Psychotherapists of Ontario (CRPO). I am also a member of the Ontario Association of Mental Health Professionals (OAMHP) and North American Society of Adlerian Psychology (NASAP) and I have presented at their international conferences. Currently, I work under the supervision of Dr. Lila Hakim, C.Psych. at CFIR.
Treatments
Assessment
Therapies
Client-Centered Therapy
Integrative Therapy