After reading Part 1 and getting familiarized with boundaries and the difficulties we often face while setting them, you are probably wondering when or in what situations is it okay to set a limit in your interpersonal relationships?
The answer is: A boundary is set in our relationships with others to establish a felt sense of internal safety and security or maintain our sense of self-value and worth. We assert a boundary with another person to ensure we do not experience excessively high levels of negative emotional distress based on what others say, do, or express to us.
The model below has been devised to help you think about when it might be okay to set boundaries for yourself in everyday life. See model down below: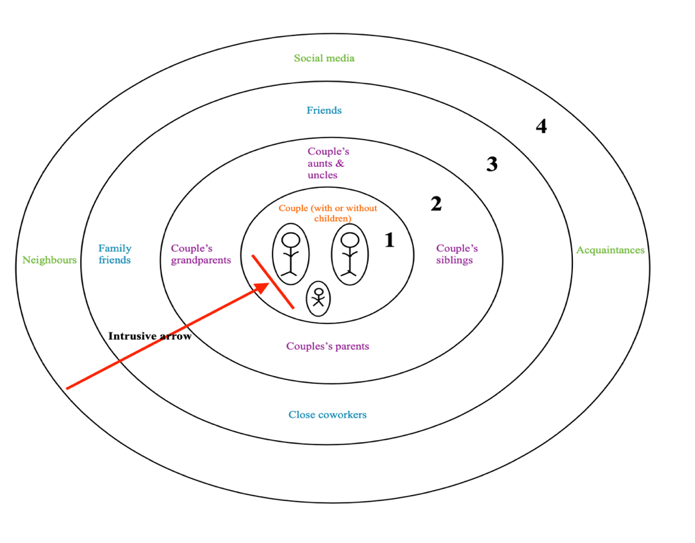 When you, your partner, or children receive an intrusive arrow (something that makes you feel bad—can be threats, insults, shaming, pressure, etc.) from anyone in circles 2, 3 & 4, it's absolutely okay and healthy to put up a boundary to protect yourself, your partner or your child.
It's also important to remember that in circle 1, each person is also a separate individual with their respective thoughts, opinions, feelings, emotions, wants, needs, values, and desires. Every individual can benefit from knowing this information as it's the basis for setting a boundary. In terms of the diagram below, an individual has to establish a boundary with each member of their family and those relationships in the outer circle.
Remember that boundaries set with respect & authenticity are a way to protect yourself and your mental health. When you don't set boundaries, you can be overwhelmed with stress and negative emotions that can lead to difficulties in your relationships. We become overwhelmed when we don't listen to our feelings and bodies and set boundaries to protect ourselves from going into a space that is too much for us physically or psychologically. By setting boundaries, you also help yourself & the relationships around you grow. You and others learn more about who you are and how to relate to each other, and you are capable of being more invested and present for your romantic partners and other relationships.
Stay tuned for Part 3: Types of Boundaries.
Mélodie Brown, B.A., is a therapist and completing a clinical psychology doctorate (D.Psy). At Centre for Interpersonal Relationships, she provides psychological services to adults and couples under the supervision of Dr. Dino Zuccarini, C.Psych.. In the last year of her clinical psychology doctorate, Mélodie has completed all of her clinical training. She is in the process of finishing her thesis before receiving her license as a clinical psychologist.