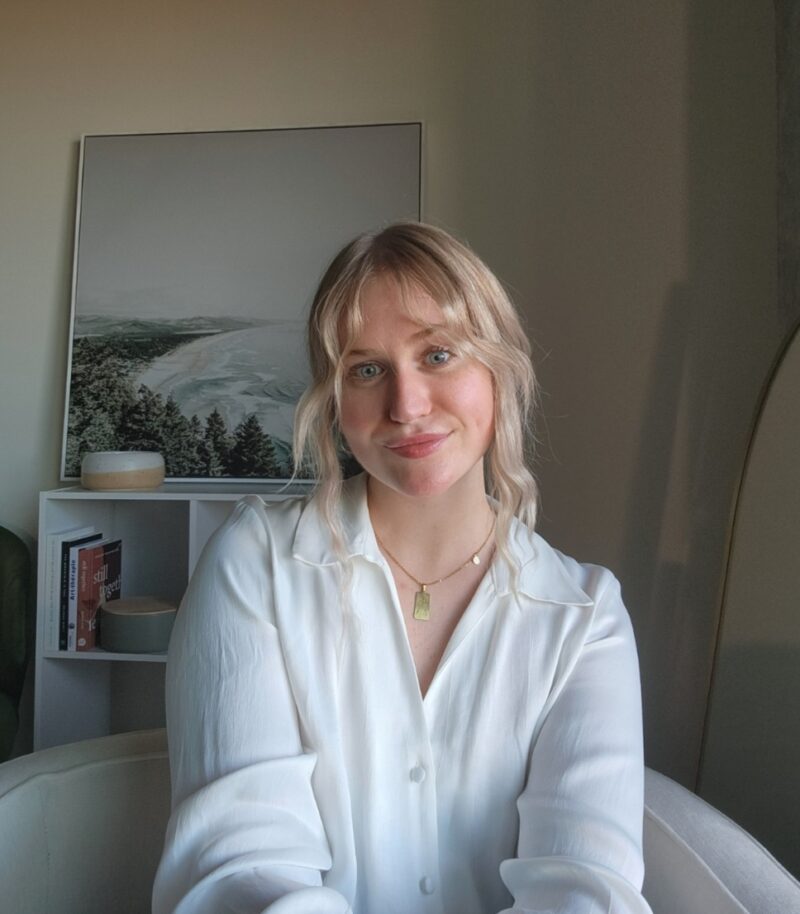 Pascale Thompson, C.C.C., M.A., R.P. (Qualifying)
Seeking help is an important step to take when facing life's challenges and emotional struggles. It is also an act of self-compassion, demonstrating a commitment to one's own well-being and the pursuit of a happier, healthier future. I applaud you for taking this first step of seeking a clinician who aligns with your values. I would be delighted to have the opportunity to accompany you through the next stages of this process.
I offer a safe and non-judgmental space for self-exploration to assist individuals in gaining perspective on their thoughts and emotions, developing coping strategies, and ultimately leading a more fulfilling life. In individual therapy, I work with adults dealing with concerns such as anxiety, depression, self-esteem, interpersonal relationships, sexuality, grief, trauma, emotional regulation, eating disorders, and identity. It's important for me to mention that I serve a diverse clientele, whether that may be related to cultural, ethnic, religious, spiritual, or sexual diversity (2SLGBTQI+).
During our initial sessions, my primary goal is to warmly welcome you and ensure your comfort in order to establish a strong therapeutic alliance. I will begin by asking you questions to get a global understanding of your life experiences. Afterward, we'll be able to dive deeper into the factors that have brought you to seek therapy. Together we will set your goals and assess the origins your current difficulties. After discussing your personal history and collecting a report of your life experiences, I will conduct a comprehensive assessment using scientifically evidence-based measures to provide you with insights into the possible nature of your current difficulties. This assessment will then guide us in developing adaptive strategies to facilitate change. This is a collaborative effort, and your active participation in this process is essential for achieving your goals.
My therapeutic approach is integrative, primarily drawing from a psychodynamic approach while incorporating tools from cognitive-behavioral therapy (CBT), emotion-focused therapy (EFT), and mindfulness-based cognitive therapy (MBCT), among others, to meet the specific needs of each client.
I completed a Bachelor's degree in Psychology with a specialization in Applied Intervention at the University of Quebec in Outaouais and a Master's degree in Counseling, Psychotherapy,
and Spirituality at Saint-Paul University. I have many years of experience working in the community with women survivors of domestic violence, women survivors of sexual abuse, and adolescents facing family difficulties and/or at risk of homelessness. I have also completed several hours of volunteer work in Ghana, Africa, with children in a shelter and young women in a rehabilitation center. Additionally, I participated in a feminist oriented family research laboratory at the Department of Psychoeducation and Psychology at the University of Quebec in Outaouais, where I contributed to the publication of a scientific article:
Butler, J., Gosselin, J., Ladouceur, M.-L., Thompson, P., Saunders, E. (2019). The psychosocial adjustment of young adult children of divorce (YACOD): a systematic review. Marriage & Family Review, 111 pages.
At the Centre for Interpersonal Relationships, I am a registered psychotherapist (qualifying) with the College of Registered Psychotherapists of Ontario (CRPO) under the supervision of Dr. Karine Côté, C. Psych. I am also a member of the Canadian Counselling and Psychotherapy Association (CCPA). I offer services online and in-person, in either French or English.
Some of my core values in my therapeutic work include compassion, empathy, authenticity, respect, collaboration, and an open-minded approach. If my profile resonates with you, I would be more than happy to accompany you on your journey of self-discovery, personal growth, and healing.
Treatments
Therapies
Client-Centered Therapy
Integrative Therapy