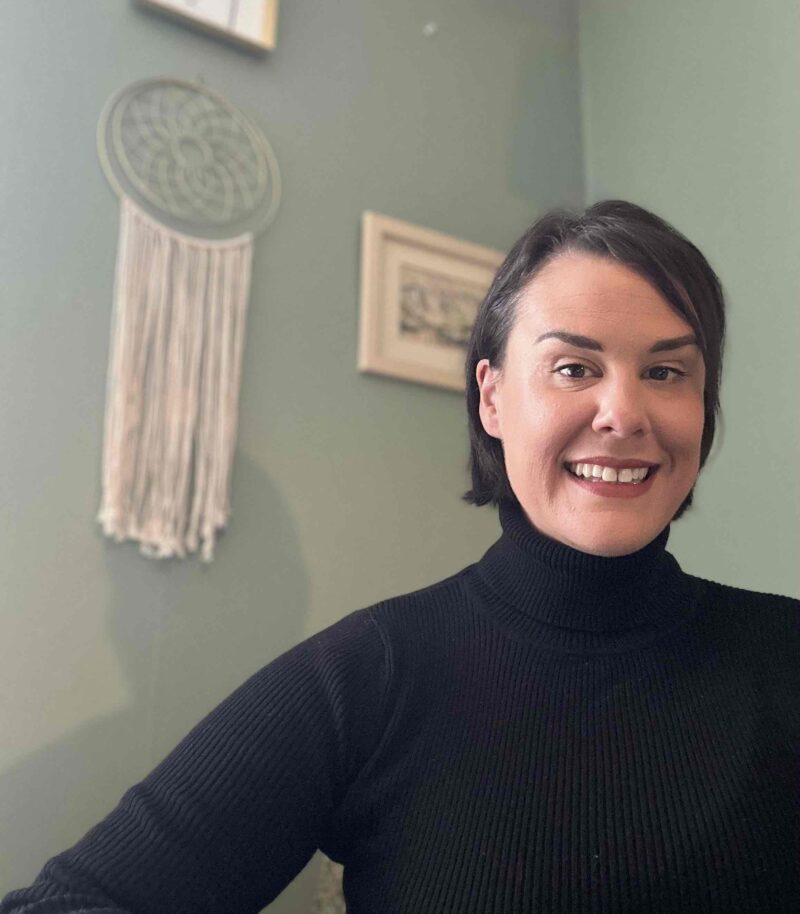 Dr. Jennifer Bradley, C.Psych. (Supervised Practice)
Throughout the course of our lives, we are faced with difficult life experiences that can disrupt our sense of self, our relationships with others, and our overall well-being. Psychotherapy can provide a safe and collaborative place where you can 1) begin to identify and understand your difficult feelings and experiences 2) discover the root of your distress 3) and develop new ways to navigate stressful and challenging experiences. Through my practice and training as a psychologist, I have come to appreciate that the process of self-discovery and learning in a non-judgemental and collaborative therapeutic space can lead to deep healing and self-empowerment.
In my practice, I am committed to supporting individuals across the lifespan by offering a confidential, therapeutic experience grounded in safety, connection, and collaboration. I provide therapy and assessment services for adults who encounter a range of experiences, which include but are not limited to: chronic stress or anxiety, grief, depression, interpersonal problems, complex trauma, sensory dysregulation, living with chronic illness, struggling with a major life transitions such as leaving home to attend university, and struggling to manage and cope with overwhelming emotions such as anger, sense of hopelessness or loss of meaning in one's life.
In the first session, we will work together to establish an understanding of the current issues you are facing and your hopes for the therapy process. I tend to ask questions about your past and present experiences, as well as future hopes and aspirations. Discussing the unique aspects of your life and history will shed light on your current challenges, as well as illuminate your strengths. I may also make use of evidence-based assessment tools to support our process of understanding what may be contributing to your current difficulties. From there, we will collaboratively develop a plan that is tailored to your specific needs and grounded in evidence-based practice. My therapeutic approach is predominately informed by existential-humanistic, psychodynamic/relational approaches, attachment-based, behavioral, and trauma-informed models of care.
Over the past eight years, I have gained extensive psychotherapy and assessment experience working with individuals across the lifespan who have presented with various concerns and intersecting identities. During my graduate training, I completed placements in clinical settings such as a university psychology clinic which served university students, staff, and members of the Pittsburgh community, and a trauma-informed therapeutic nursery program for children between the ages of 0-5. Additionally, I facilitated community-based mental health programs for youth and adults and completed a Leadership Education in Neurodevelopmental Disabilities (LEND) fellowship. During my doctoral residency at the Center for Interpersonal Relationships (CFIR), I provided psychological services such as psychotherapy and psychological assessments to individuals and couples under the supervision of licensed psychologists in Ontario. These diverse clinical experiences in both private and community- based settings provided me with skills and flexibility to work with a wide-range of presenting concerns, and a critical awareness of how socio-cultural and systemic factors are implicated in psychological distress and client care.
In 2012, I received my B.A. in Psychology at the University of Prince Edward Island. In 2016, I received my M.A. in Clinical Psychology at the Duquesne University. In 2023, I received my PhD in Clinical Psychology in 2023. I am currently registered with the College of Psychotherapists of Ontario (CRPO) as a Registered Psychotherapist (Qualifying), and the College of Psychologists of Ontario (CPO) as a Psychologist (Supervised Practice). I am also a member of the Canadian Psychological Association.
In addition to clinical work, I enjoy teaching and writing. I have taught courses in Introduction to Psychology and Child and Adolescent Development, and a course on Ecopsychology at the University of Prince Edward Island. My academic and writing projects have involved exploring the psychological and emotional aspects of nature experience and developing an experiential approach to designing outdoor play spaces for children.
Treatments
Therapies