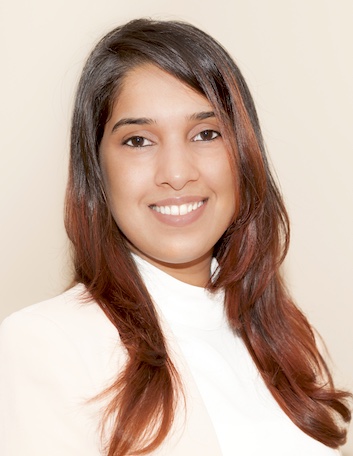 Niyati Gandhi, M.A., C.Psych. Assoc.
I admire your courage for seeking out support to make some healthier, happier changes in your life. I strongly believe that my clients truly are the experts on themselves and over the past decade, I feel privileged for the opportunity to work alongside them and be a part of their therapeutic journey. I deeply value our relationship and believe in working collaboratively to achieve your desired goals. Therapy is a process, and our work together will focus on developing self-awareness, understanding your emotions and thoughts and attaining a greater sense of acceptance and compassion to create meaningful relationships with self and others.
At CFIR, I provide assessment and psychotherapy for individual adults and couples. In individual therapy, I work with clients presenting with a diverse range of difficulties such as anxiety and stress, psychological trauma, panic attacks, obsessive-compulsive behaviors, depression, self-esteem issues, atypical personality patterns, interpersonal relationship struggles and cultural diversity issues. I also support clients to address questions and concerns related to identity, meaning and purpose, sexual orientation, sexuality, substance dependence and addictions, anger and impulse control problems. My training in sexual abuse counselling and advocacy has enabled me to empower many of my clients overcoming emotional, physical and sexual abuse, and associated trauma.
In my work with couples, the aim is to generate greater understanding of their relationship and self in the context of their relationship to foster a secure attachment and restore the relationship to a healthier level of functioning. I counsel couples who are experiencing concerns related to intimacy (emotional, physical and sexual connection), communication difficulties, (fights, arguments, anger), infidelity and trust, power dynamins. I also counsel couples for various other difficulties related to managing finances, dividing workload, parenting and extended family (e.g., in-laws). To enrich the marital bond, I coach couples to build effective communication skills, conflict resolution techniques, constructive problem solving and increase partner acceptance and appreciation. I also support couple partners, married or not, who have an open, non-monogamous or polyamorous relationship.
In our initial few meetings, we will work together to develop your therapeutic goals, and devise a plan around how we can achieve these goals. As we progress, I will conduct a comprehensive scientific, evidence-based assessment along with taking an in-depth personal history, to develop a deeper understanding of your concerns, which may involve evaluating certain past experiences and relationships that may have contributed to the current difficulties. We will also identify and harness your personal strengths and resources that are instrumental in the process of change. In therapy, I offer a safe, non-judgmental and confidential space where, at your own pace, you can uncover, examine, experience, accept and modify certain aspects of your thoughts, emotions and behaviors, that hinder your journey of personal growth.
My therapeutic style entails an integration of various research supported interventions including cognitive behaviour therapy, dialectical behaviour therapy, family systems therapy, Gottman's method couples therapy, emotionally-focused couples therapy, gestalt and existential therapies, which allow me to tailor treatment interventions to suit the specific nature of the client's difficulties. Being born and raised in South Asia, and having lived in two different countries in North America, I bring in a blend of western psychology and eastern philosophy, which helps me to offer a holistic approach in working with my clients. My multicultural experience has sensitized me to understanding diverse beliefs and values that shape individual viewpoints, bringing in a unique perspective to my approach.
I have about a decade of clinical experience from United States and India working with children, adolescents, adults, couples and families. During this time, I provided psychological assessment, consultation and intervention services in adult private practice and child guidance centres, hospitals, university counselling centres (all in Mumbai, India) and community mental health centres (Lifelinks, USA). Over my work tenure, I have also contributed in different research projects, including planning and development of an online game-based psychometric employee recruitment tool called Nautics, used by corporate organizations for talent acquisition and management (www.talentlitmus.com) and have co-authored a research paper mentioned below:
Sonawalla, S., Jiwani, S. K., Srinivasan, M., Ajmera, T., Gandhi, N., Aladia, S., Pateria, I., Parikh, R. M. (2013, May) Depressive Symptoms and Suicidal Ideation Among College Students in Bombay: A Study Of 3,300 Students. Poster paper presented at the Annual Meeting of American Psychiatric Association at San Francisco.
I have completed my Master's in Clinical Psychology from Eastern Illinois University, USA, and also hold a Master's in Applied Psychology and a Bachelor's in Psychology from University of Mumbai, India.
I am registered as a Psychological Associate with the College of Psychologists of Ontario with declared area of practice in Clinical Psychology with adults and couples and a member of the Ontario Psychological Association. I am also a registered Rehabilitation Psychologist with the Rehabilitation Council of India and a member of Bombay Psychological Association, India.
Thank you for putting your trust in me!
Treatments
Assessment
Therapies