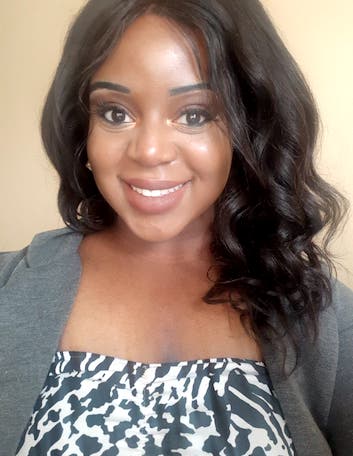 Nereah Felix, B.A.
At times, we all feel lost and our lives aren't as satisfying as we'd like them to be. Sometimes we feel that life has little meaning and that we are not very worthwhile. We do not have to navigate the depths of these overwhelming and uncomfortable feelings alone. As a Counsellor at CFIR, I hope to accompany you on a journey of self-exploration, self-compassion, and growth. I will support you every step of the way, and congratulate you for taking the first step to changing your life!
I strive to work with adults who are in need of assistance with a variety of concerns and who would like to improve their lives in the face of adversity. Mainly, I work with the goal of developing and maintaining a strong alliance with my clients, working towards client-directed goals, and empowering clients to reach their full potential and feel proud of their achievements. I hope to work with individuals and couples from diverse backgrounds who face an all-encompassing range of difficulties and troubles. My personal belief is that no matter the worldview of a client (e.g., gender, race, socioeconomic, sexuality, age, etc.), each client should be provided with an authentic, non-judgmental, safe, and supportive environment to share their experiences and improve their wellbeing.
My clinical interests reside in self-growth and self-esteem, trauma, multiculturalism, anxiety, depression, and substance use. For me, counselling represents an equal partnership between the client(s) and counselor, one in which both of our voices are valued and respected by the other. I believe that events that have occurred in our past create a blueprint for the story we live in present time, and my primary goal is for us to understand those important events and moments and work to alter and/or reduce maladaptive thoughts, behaviours, and emotions and create new and healthy patterns of interacting with the self and with others. We will also engage in a dialogue that allows us to discuss the meaning of your own life and the space you occupy in this world. With couples, I hope to address negative patterns that exist within the relationship and to improve intimacy (e.g., emotionally and physically). I use an individualized therapeutic approach for each client, one that is grounded in various therapies. As my counselling is integrative, I am interested in incorporating features of Psychodynamic, Cognitive-Behavioural, Existential-Humanistic (e.g., Client-Centered and Gestalt), Attachment-Based, Emotion-Focused Therapy, amongst others.
In our first session together, my hope is that we develop a rapport in which you feel comfortable to express yourself and not feel judged. Creating a partnership in which you feel fully accepted for who you are is essential for effective therapy. I hope to understand your story, your current struggles, and your therapy goals. I will also utilize scientifically-based assessment measures to gain a greater understanding of the difficulties you face. Following the initial session, I will provide you with my professional opinions so we can together build a plan to meet your therapeutic goals. During this phase, you will be given the space to decide the best approach for you. We will co-create a treatment plan that facilitates improvements in the parts of your life that matter the most to you, while enhancing your resiliency to deal with life stresses.
I completed my Bachelor of Arts in Psychology (Honours) degree at the University of Ottawa and am currently enrolled in the Master of Arts in Counselling Psychology at the University of Ottawa. I have over four years of experience working in a variety of community settings, including Family Services Ottawa (FSO), Planned Parenthood Ottawa (PPO), a private practice, and as a peer counsellor at the University of Ottawa. At CFIR, I am working as a Counsellor under the supervision of Dr. Aleks Milosevic, C.Psych.
Treatments
Assessment
Therapies