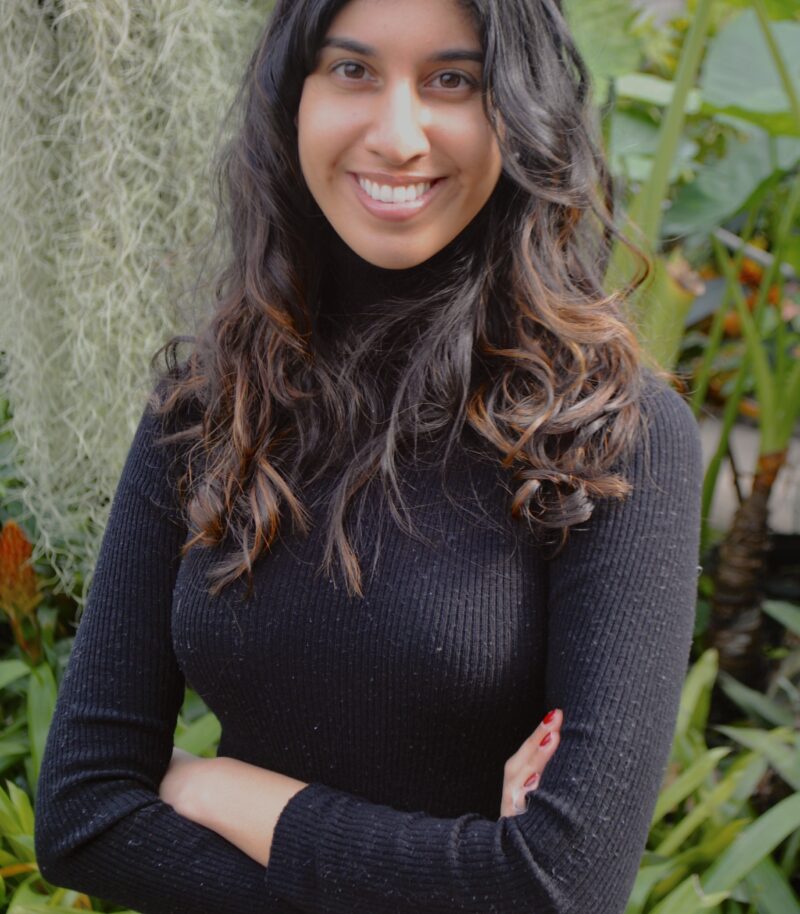 Mira Samara Persaud, B.HSc, M.Ed, R.P.(Q)
The therapeutic space holds us accountable. It provides us with a safe place to reflect, process, and get to know ourselves. From it, we gain insight, meaning, motivation, and purpose. No matter what you are struggling with, I'm committed to helping you achieve your therapeutic goals. I am a first-generation Canadian and queer woman of Guyanese and Indo-Caribbean culture. I specialize in providing interdisciplinary, intersectional, and interpersonal psychotherapy services to a diverse clientele. My passion is supporting BIPOC and LGBTQIA2S+ communities, although I provide services to individuals from all walks of life!
Through client-focused, trauma-informed, integrative evidence-based approaches, I help clients who are struggling with a broad range of mental health concerns. Whether this is your first time seeking therapy or you've been through this process before, I am committed to supporting you throughout your journey. My goal is to work alongside you in efforts to help you own your narrative, uncover your strengths, and find motivation to thrive in your life!
I have a deep interest in and understanding of how to help individual clients navigate their interpersonal relationships, attachment issues, and life stress. Using a relational approach, my aim is to cultivate a strong therapeutic connection and meaningful professional relationship with you where you feel safe, empowered, and validated. In our sessions together we will first work to establish your therapeutic goals. After evidenced-based assessment strategies that will provide you with insight into your difficulties, I will use EFT techniques as well as other tools from various modalities, tailored to your case, to address the primary issues you are facing. Together, we will focus on different areas of your life, and reflect on what you may be needing, and what hurts the most.
Over the past decade, I have worked in mental health and counselling environments providing competent community care to a diverse clientele. My work has primarily serviced marginalized populations such as the BIPOC and LGBTQIA2S+ communities. For the past decade I have served as the Executive Director of Mind Full Health Organization, a mental health education non-profit that works with young adults to address suicidality and non-suicidal self-harm through professional workshops and training. Additionally, I have extensive academic and clinical experience in the field of women's sexual and reproductive health, abortion care, sexuality/ intimacy psychology, and trauma-informed practices. I am a published researcher in the field of Obstetrics & Gynecology and women's sexual and reproductive health care.
Berger H, Salem YS, Persaud MS, et al. "A Clinical Model for the Prediction of Diet Controlled Gestational Diabetes Mellitus," Journal of Obstetrics and Gynecology Canada, 2019 https://www.sciencedirect.com/science/article/abs/pii/S1701216319303573
Persaud MS, LaRoche KJ, Foster AM. "'I didn't doubt my choice, but I felt bad': A qualitative exploration of Canadian abortion patients' experiences with protesters," Contraception, 2020 https://www.sciencedirect.com/science/article/pii/S0010782420301773?dgcid=coauthor
LaRoche, K.J., Wylie, A., Persaud, M., Foster, A.M. Integrating mifepristone into primary care in Canada's capital: A multi-methods exploration of the Medical Abortion Access Project. Contraception, 2022 https://www.sciencedirect.com/science/article/abs/pii/S0010782422000014
I obtained my undergraduate degree (BHSc) in interdisciplinary Health Sciences & Psychology from the University of Ottawa where I focused on the social determinants of health, women's sexual and reproductive health care, and pathophysiology. I completed my MEd in Counselling & Psychotherapy at the University of Toronto at the Ontario Institute for Studies in Education where I specialized in EFT approaches, trauma-informed psychotherapy, and anti-oppressive practices.
I am a Registered Psychotherapist (Qualifying) with the College of Registered Psychotherapists of Ontario under the supervision of Dr. Dino Zuccarini, C.Psych.
Treatments
Therapies