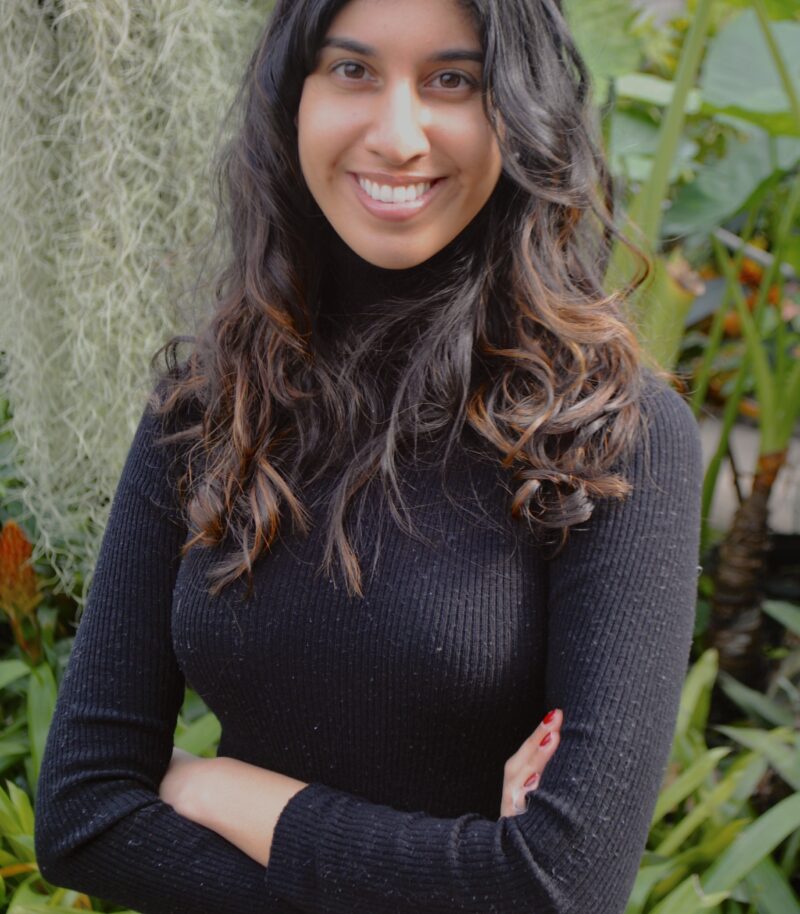 Mira Samara Persaud, B.HSc, M.Ed, R.P. (Qualifying)
Whether you're facing a life transition, relationship conflict, or complex emotions, my goal is to work alongside you to help you discover your strengths and find the motivation to thrive in your life. Therapy is a form of self-care that also holds us accountable. It provides us with a safe place to reflect, challenge ourselves, and recognize our issues on a deeper level so we can develop the capacity for change.
I am a queer woman of Indo-Caribbean culture specializing in providing interdisciplinary and intersectional therapy to a diverse clientele who have a broad range of presenting problems and identities. I provide psychotherapy to adults and couples experiencing issues relating to: relationship conflict (intimate/romantic partners, family, friends), sexuality (intimacy, pleasure, gender identity, LGBTQIA2S+), trauma (BIPOC/systemic injustice, intergenerational trauma, sexual assault, emotional and physical abuse, childhood abuse), women's health (pregnancy, post-partum, abortion), anxiety, depression, self-esteem, and identity (life transitions, career stress). I have a deep interest in and understanding of how to help clients navigate their relationship challenges, emotional distress, trauma, and life transitions. One of my primary aims is to cultivate a meaningful relationship with you where you feel safe, empowered, and validated.
My focus as a clinician is uncovering how your past experiences inform current challenges and triggers. I also believe in working to decipher complex emotions. I view therapy as a collaborative process, a journey where you are the expert in your life who can establish specific goals for your growth and personal development. I employ a variety of therapeutic theories and approaches that are tailored to each client's unique concerns. I primarily use psychodynamic and attachment-based frameworks to understand your story and make sense of your conflicts. I use interventions and techniques that are mainly emotion-focused, cognitive-behavioral, trauma-informed, and mentalization-based which help to manage interpersonal issues, overwhelming emotions, thoughts, and behaviors. Through integrative and evidence-based approaches, I help clients who are struggling with many different mental health concerns and personal challenges.
In our first few sessions together, we will work to establish safety through cultivating an environment rooted in authenticity and non-judgement. After exploring your history and completing empirically validated assessments that will provide us with insight into your difficulties, I will provide you with my clinical understanding of your struggles. From there, we will focus on how to meet your needs in different areas of your life using various therapeutic interventions and resources. We will also work towards goals related to developing advanced emotional and behavioral skills, self-awareness, and personal understanding.
I obtained my undergraduate degree (B.HSc) in interdisciplinary Health Sciences & Psychology from the University of Ottawa where I focused on the interdisciplinary health sciences, interpersonal psychology, women's sexual and reproductive health care, and pathophysiology. I completed my master's in Counselling & Psychotherapy (M.Ed) at the University of Toronto's Ontario Institute for Studies in Education where I specialized in EFT (Emotion-Focused Therapy) approaches, trauma-informed practices, and anti-oppressive work. Over the past decade, I have worked in mental health and counselling environments providing competent community care to a diverse clientele. My work has primarily serviced marginalized populations such as the BIPOC and LGBTQIA2S+ community. I have academic and clinical experience in the fields of women's sexual and reproductive health, abortion care, sexuality/intimacy and relationship psychology, and trauma-informed practices. I am a published researcher in the fields of Obstetrics & Gynecology and women's sexual and reproductive health care.
I am a Registered Psychotherapist (Qualifying) with the College of Registered Psychotherapists of Ontario #11276(under the supervision of Dr. Dino Zuccarini C.Psych).
Berger H, Salem YS, Persaud MS, et al. "A Clinical Model for the Prediction of Diet Controlled Gestational Diabetes Mellitus," Journal of Obstetrics and Gynecology Canada, 2019 https://www.sciencedirect.com/science/article/abs/pii/S1701216319303573
Persaud MS, LaRoche KJ, Foster AM. "'I didn't doubt my choice, but I felt bad': A qualitative exploration of Canadian abortion patients' experiences with protesters," Contraception, 2020 https://www.sciencedirect.com/science/article/pii/S0010782420301773?dgcid=coauthor
LaRoche, K.J., Wylie, A., Persaud, M., Foster, A.M. Integrating mifepristone into primary care in Canada's capital: A multi-methods exploration of the Medical Abortion Access Project. Contraception, 2022 https://www.sciencedirect.com/science/article/abs/pii/S0010782422000014
Treatments
Therapies