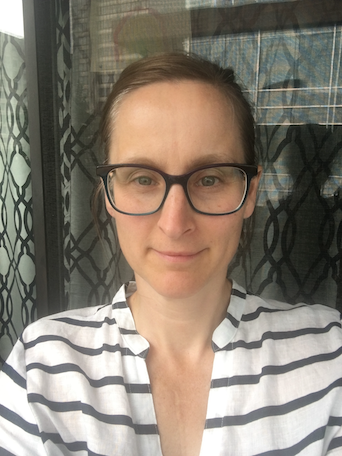 E. Gaëlle Hortop, M.A.
Being a human is tough and at times profoundly painful. When life gets particularly overwhelming, as it does, one way to restore our internal balance is to share that experience with a trusted other. We know that dealing with challenging experiences in this way can reduce our emotional suffering. By identifying and shifting some suffering out of your way, you may find you have the presence of mind necessary to move forward in your life in ways that feel best for you. I look forward to supporting you in your therapeutic journey!
I am trained to support individuals experiencing difficulties related to depression and loss, anxiety, anger, trauma, sleep, relationships, sexual functioning, life transitions, and existential issues related to meaning and purpose. With couples, my focus is on what makes partners trustworthy havens for one another. Feeling free to be real or be yourself in your couple relationship can significantly reduce suffering, when couples face profoundly painful moments together. I am comfortable working with individuals and couples with diverse socio-cultural identities (e.g. gender, sexual-orientation, ethnicity).
In early sessions, we will clarify your most central concerns and explore and understand these concerns through discussion and carefully selected, evidenced-based assessment tools. Based on your expressed needs and goals, we will work collaboratively to come up with a plan for therapy that best works for you. To do so, I will integrate effective treatment approaches including mindfulness-based, emotion-focused, attachment-based, interpersonal, psychodynamic and cognitive-behavioural therapies. Within our common humanity, we all possess unique personal stories and personal styles that therapy must also address. In addition, I will always check in with you that therapy is going at a pace and in a direction that suits you uniquely.
I am currently in my fourth year of training in the clinical psychology doctoral program at the University of Ottawa. My clinical training experience includes the Ottawa Mindfulness Clinic, the Royal Ottawa Hospital, the Ottawa General Hospital, The Ottawa Rehabilitation Centre, the Centre for Psychological Services and Research, Saint Mary's Hospital (Montreal) and the Applied Psychology Centre (Montreal). My doctoral research seeks to understand the role of mindfulness in protecting individuals from the negative effects of work-related stressors and controlling interpersonal relationships.
I maintain membership with the Canadian Psychological Association (CPA), routinely attend psychology conferences and workshops and follow current developments in relevant clinical and scientific literature.
At the Centre for Interpersonal Relationships (CFIR), I am a Counsellor under the supervision of Dr. Dino Zuccarini, C.Psych.
Treatments
Assessment
Therapies
Integrative Therapy
Relational Therapy